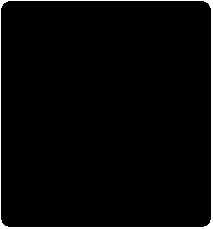 The revolve feature involves drawing a profile that spins around a central axis, similar in technique to turning wood on a lathe. Hitting the "apply" button will show the model rendered instantly as draft artwork; it is then easy to keep adjusting the lathe profile, performing frequent draft renders, to see how the changes affect the finished model.
The extrude feature begins with a bezier curve path, which may be drawn directly in Dimensions or imported from existing Postscript artwork. This makes it ideal for turning company logos and symbols into 3D shapes. The flat shape is given depth via a simple numeric measurement, and turns into a 3D object. Adding custom bevels to the extrusion varies the profile to create curves, rims, or other designs.
The two modeling methods can create image elements that may then be combined to form a larger, more complex object. Once constructed, the resulting model can be coloured and shaded, and viewed from any angle angle before being output as a Postscript file - images can also be rendered as raster (bitmap) files. Although the texturing component is weak - images can be wrapped around models, but the results are somewhat crude - Dimensions lets you draw your own mapped artwork, which can be fitted to any object surface you select. This can be useful for placing labels on bottles, for example. You can even import existing artwork (in Postscript format) to be wrapped around 3D surfaces.
Dimensions may not have the texturing and rendering sophistication of high-end modelers, but it is the ideal tool for knocking out quick models that can be viewed from any angle, exported as Postscript artwork, and then imported into Photoshop to add texture. Models that have been rendered in seconds or minutes, rather than hours, can be used as large as you want as the basis for illustrations.

Bottom line, you do not need to create complex models to get the best out of Dimensions, sometimes, even modeling a simple box can be easier than trying to draw the perspectives from scratch.

Adobe Dimensions (Discontinued)
Note: Adobe Dimensions has officially been discontinued. Some of the features in Dimensions have now been incorporated into Adobe Illustrator.

Adobe Dimensions is a basic 3D program that uses two modeling techniques, revolve and extrude, to create its models. Although the program is now showing its age - it has not been updated since 1997 - it offers the unique capability of being able to generate Postscript artwork. Where other, more powerful applications render a "bitmap" image, with the render time escalating as larger images are drawn, Postsript artwork - the basis of all vector drawing applications - can be scaled to any size without loss of quality.
Above:
Adobe Dimensions screenshot. Click for a larger view.
||||||